Beautiful, round, plump, ass! Would love to suck and nibble your clit, while I finger fuck your warm, wet, pussy.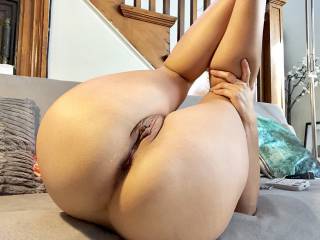 I'm gonna grab that hot ass with my hands and start to lick gentle and hard rubbing up/down through your ass gap - your pussy and asshole, playing with clit, eat it all your sweet pussy, continue do tongue fuck and fingering your holes. Make your pussy very hungry to feed her deep fulfilled with my big very hard cock. 
I'm gonna drive you crazy and make you very wild.
You gonna groan, moan, roar, scream. You r so pretty, i love to kiss you and eat your sexy lips, go down suck your perfect tits and nipples, kiss all the way to your smooth thighs, eat pussy and even lick to your ass hole, would u let me kiss and eat your ass hole? Wish we could be seen while i kiss your ass. Love to tongue fuck your asshOle tongue deep, stick my hard cock in your pussy n fuck it hard n deep, fill your love holes with cum :) Mmmmmm and what a delicious butt it is, perfect position to tongue fuck both your sweet hole till you cream on my tongue. That so sexy ass must be kissed, i would even lick your ass hole, will u let me do this? Will u open ass cheeks for me?