Slowley licking my way down your spine.Pulling your thong aside licking and kissing your ass.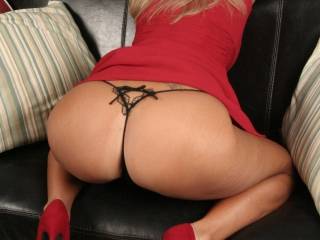 Kiss it, bite it, lick it, smack it. Push it, pull it, grip it. Hold it, rub it, spread it, fuck it. And lets not forget to massage it all over with a warm stiff cock.
Left, right , up and down both inner thighs, slapping against your pussy lips over and over, rubbing your hard clit until your juices coat me and are running down your thighs. Love to pull your thongs off with my teeth & tongue fuck your asshOle tongue deep, stick my hard cock in your pussy n fuck it hard n deep, fill your love holes with cum :) Would be my pleasure! Speaking of pleasure, I would love to get on my knees and lick your delicious ass and slowly lick my way down to your sweet pussy! I want to pull that thong to the side and bury my face between your cheeks,tickling your asshole with my tongue. Awesome : You have one Spanktacular Ass . Would squeeze and lick your Gorgeous ass on a daily basis.